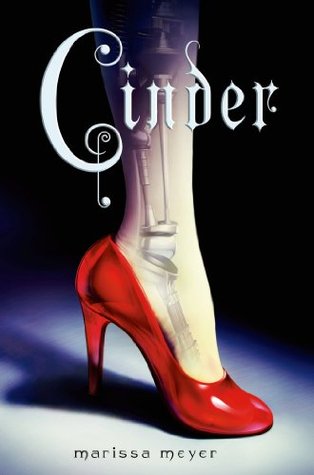 Book Title:
Cinder
Author:
Marissa Meyer
Series:
The Lunar Chronicles
Genre:
Young Adult Fantasy
Humans and androids crowd the raucous streets of New Beijing. A deadly plague ravages the population. From space, a ruthless lunar people watch, waiting to make their move. No one knows that Earth's fate hinges on one girl.




Cinder, a gifted mechanic, is a cyborg. She's a second-class citizen with a mysterious past, reviled by her stepmother and blamed for her stepsister's illness. But when her life becomes intertwined with the handsome Prince Kai's, she suddenly finds herself at the center of an intergalactic struggle, and a forbidden attraction. Caught between duty and freedom, loyalty and betrayal, she must uncover secrets about her past in order to protect her world's future.
MY THOUGHTS
This book was pretty amazing. I was blown away with the story, including how well the retailing of Cinderella was. It was a great interpretation of the fairy tale that included small elements from the original tale. For example, the tale originated in China and the setting of the novel is in New Beijing. It is subtle but a nod to the original tale. It still has the evil step mother and step sisters but it has a different spin as well.
My favorite character from the novel (other than Cinder) is Iko. She is an android that has such a personality and is extremely funny. She definitely adds much of the comical aspects to the story. Iko actually continues to be a favorite through the series.
Queen Levanna makes it very easy for the reader to despise her. She is taking advantage of all of her people by her glamour. She kills all of the Lunars who are born as a shell, this is terrible because it is also a new born that they are killing. Levanna has also killed most of her family members in order to get the crown for herself, including trying to kill Cinder when she was just 3 years old. Not even old enough to understand what was going on when the fire broke out around her. Luckily, Cinder was saved and can crush Queen Levanna with a heavy hand.
Overall, this story was very entertaining. It is a novel that I would highly recommend to anyone looking for something new.