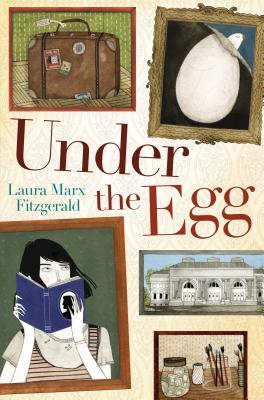 Book Title:
Under the Egg
Author:
Laura Marx Fitzgerald
Series:
N/A
Genre:
Children's/ middle school/ mystery
When Theodora Tenpenny spills a bottle of rubbing alcohol on her late grandfather's painting, she discovers what seems to be an old Renaissance masterpiece underneath. That's great news for Theo, who's struggling to hang onto her family's two-hundred-year-old townhouse and support her unstable mother on her grandfather's legacy of $463. There's just one problem: Theo's grandfather was a security guard at the Metropolitan Museum of Art, and she worries the painting may be stolen.




With the help of some unusual new friends, Theo's search for answers takes her all around Manhattan, and introduces her to a side of the city—and her grandfather—that she never knew. To solve the mystery, she'll have to abandon her hard-won self-reliance and build a community, one serendipitous friendship at a time.
My Thoughts:
I absolutely loved this book. It was a great read for a read-a-thon. I was able to basically read this in one day. I really enjoyed the scavenger hunt that Theodora's grandfather sent her on after his death. I think it helped her get to know him a little bit better, even though he is passed away. I really hated how her mother didn't really care about their money situation or the fact that Theodora was doing everything for the two of them. I understand that she has something mentally wrong with her, either
Asperger
syndrome
or some form of autism., but she didn't need to leave her child alone that much.
I really enjoyed this because I was an art history major in college so reading about some on the art made me a little giddy again for the art world. I was able to get involved a little with the story because of the art they were talking about.
I would recommend this novel to anyone but especially if you are an art history buff. I gave this book 5 out of 5 stars.